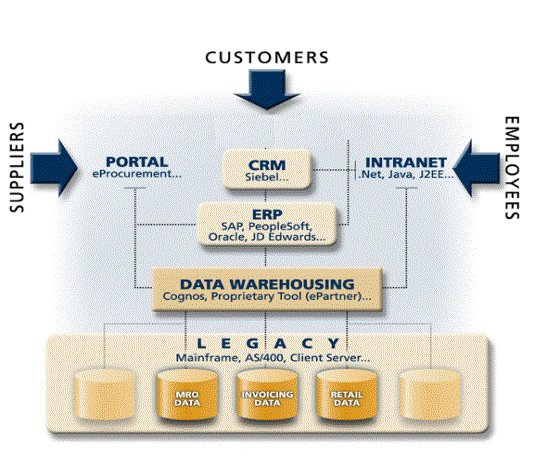 Enterprise Resource Planning (ERP)
In the fast changing global markets, organizations strive to achieve the state of zero latency in the flow of information, and have lower response times to be able to make innovative offerings to the market. ERP solutions are a pre-requisite to newer business initiatives and strategies. CSI leverages its experience across technology platforms to deliver faster ROI for its clients.
Customer Relationship Management
At CSI, we believe that improving and prolonging customer relationships is more than the latest management fad and requires more than a product-based solution alone. We view Customer Relationship Management (CRM) as an important investment for organizations, In many cases it requires a reengineering of how organizations measure and incorporate customer data into their strategic business decision-making.
CSI was an early adopter of technologies that help organizations analyse and incorporate business intelligence with Customer Relationship Management tools. Our organization has over 10 years of development, implementation and customization experience in leading CRM Applications (Microsoft Dynamics, Siebel, Oracle/PeopleSoft and SAP).
Human Capital Management
The Human Capital Management department of the 21st century and beyond is a crucial business partner for each department (Financials, Supply Chain, Customer Relations) in reaching its annual, short-term and long-term goals. HR helps the other departments obtain and retain the right talent, the right people, and the right resources in this mobile and global society, to achieve the organization's business goals and objectives. The single most effective step you can take to strengthen your operations is to improve your resources hiring and retention process. CSI Corporation has provided workforce solutions to our clients for more than five years. We are especially proud of our proven experience in providing highly skilled technical consultants to the ERP industry.
Supply Chain Management
At CSI, we know supply chains business process intimately. We've worked with many customers in many industries. We have one of the broadest portfolios of alliances with leading and emerging supply chain vendors, such as SAP, Oracle, PeopleSoft, JDEdwards, Dassault Systèmes and i2 Technologies. As a single source for supply chain management, CSI Supply Chain Management Services can help you address the full supply chain spectrum: Supply Chain Enterprise Applications – we integrate your supply chain with existing or new enterprise resource planning (ERP) solutions
Financial Capital Management
Our Financial Capital Management practice will help you address your financial analysis & reporting, treasury management, order to cash, and procure to pay needs. CSI's specialty in Financial Capital Management Solutions allows us to deliver expertise and manage the complete request for proposal (RFP) life cycle
Customer Relationship Management /Human Capital Management /Supply Chain Management/Financial Capital Management
PNM RESOURCES/RADIANT SYSTEMS